How to Add Stripe Customer Portal to WordPress
The Stripe Customer Portal is a powerful tool that allows customers to manage their billing information, update their payment methods, and view their past transactions in one place.
By integrating the Stripe Customer Portal with your WordPress website, you can provide customers with a convenient and user-friendly experience.
In this article, we will show you how to set up the Stripe Customer Portal in WordPress. We will also cover some of the basic features of the portal, so you can start using it immediately.
Benefits of Using the Stripe Customer Portal
There are many benefits to using the Stripe Customer Portal, including:
Convenience: Customers can manage their billing information and update their payment methods without contacting you.
Security: The Stripe Customer Portal is secure and PCI compliant, so you can rest assured that your customer's data is safe.
Transparency: Customers can view their past transactions and track their spending.
Efficiency: The Stripe Customer Portal can help you save time by automating many of the tasks associated with customer billing.
In this article, we will walk you through setting up and effectively managing ProfilePress subscriptions using the Stripe Customer Portal.
Stripe Customer Portal Integration
If you would like to test the Stripe Customer Portal before making it live, it is essential to configure it for both Live and Test modes within the Stripe Dashboard.
Using the test mode with ProfilePress ensures that you can simulate the customer experience and verify the portal's functionality without affecting actual live transactions.
To set up the customer portal, log into your Stripe account dashboard and navigate to Settings>>Billing, and click on Customer Portal.

Alternatively, click this link directly to the Stripe customer portal setup page.
Next, you can enable the customer portal by clicking the "Activate link" button. You can then proceed by selecting the functionality you would like to provide to your customers, and when you are done, click on the Save Changes button in the top right corner.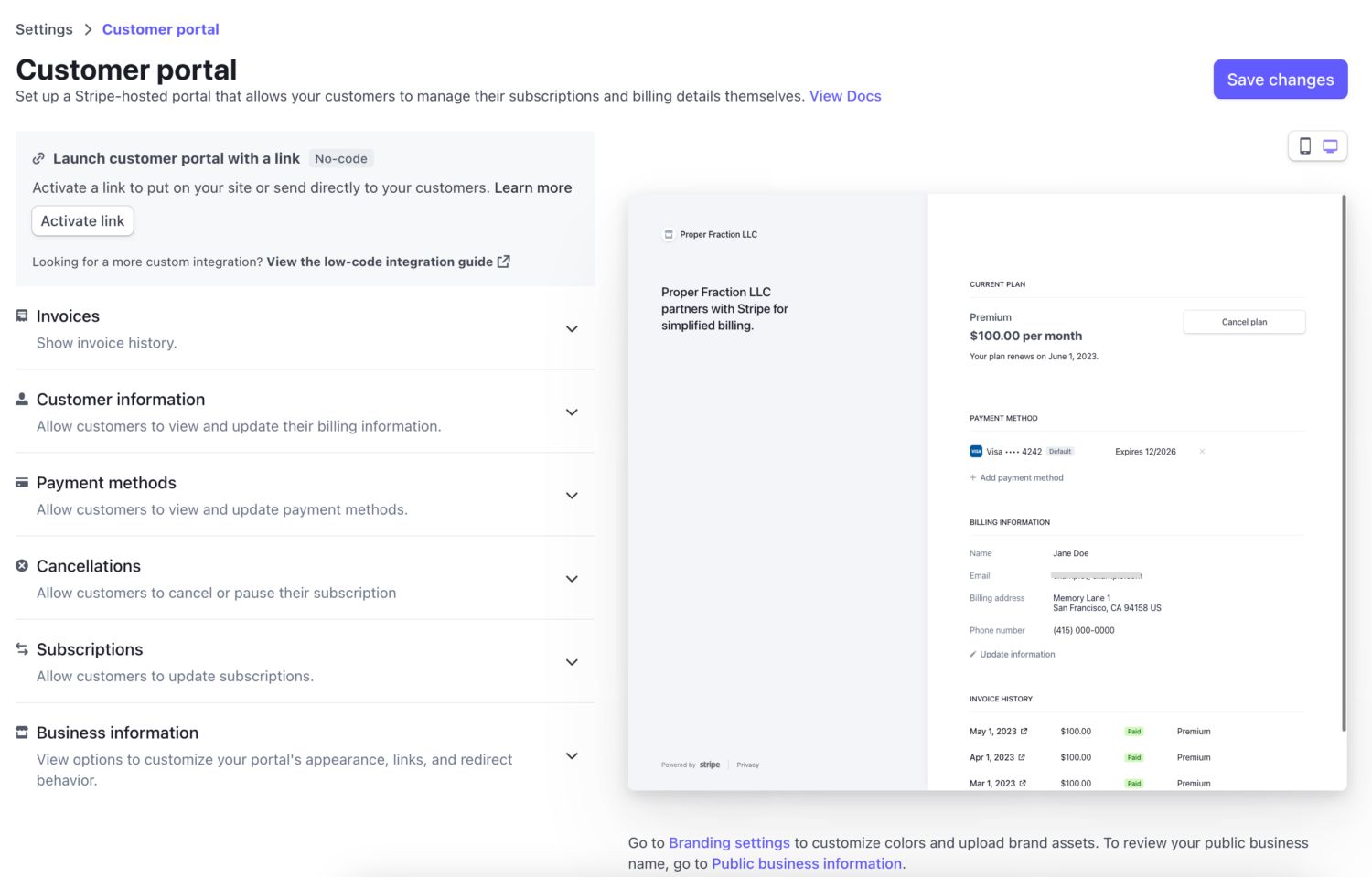 You can utilize the following settings seamlessly with ProfilePress:
Subscription Cancellation: You can cancel subscriptions immediately or at the end of a billing period based on your preferences. ProfilePress integrates smoothly with these cancellation options, allowing you to manage subscriptions effectively.
Payment Method Updates: ProfilePress enables seamless updates to payment methods within its integration. You can easily add or remove cards, providing users with a smooth and hassle-free experience managing their payment information.
Invoice History Viewing: You can conveniently offer your users the ability to view their invoice history. This feature ensures transparency and allows subscribers to access their billing records easily.
Managing Subscriptions in ProfilePress
Managing subscriptions is critical to running a thriving membership or subscription-based website.
ProfilePress, a powerful WordPress membership, user registration, and profile management plugin for WordPress, offers seamless integration with the Stripe payment gateway.
Your customers can access the Stripe customer portal when viewing a subscription on the My Account page by clicking the "Manage Subscription" button.
Your customers can manage your membership subscription in ProfilePress on your website through Stripe's Customer Portal by following the steps below.
Log into their membership account.
Navigate to the My Account page.
Click on the Subscriptions tab

Click on the View Subscription button
Scroll to the Actions row and click the "Manage Subscription" button.

They will be redirected to the Stripe billing customer portal, where they can manage/cancel their subscriptions and update their payment method.
Conclusion
With the Stripe Customer Portal, ProfilePress offers a straightforward and efficient way to empower your customers to manage their subscriptions and billing information, thereby enhancing customer satisfaction, reducing support inquiries, and maintaining better control over the subscription management processes of your WordPress website.
Remember to thoroughly test the functionality of the customer portal and ensure that it works by performing various actions, such as updating payment details or canceling a subscription.
If you have any issues or additional questions, feel free to send us a message.