How to Create a Custom WordPress Registration Page
How to Create a Custom WordPress Registration Page
When you install ProfilePress for the first time you are prompted to create pages for the smooth operation of the plugin. a custom registration page is created for you during that process. However, if you dismissed that prompt or just want to create a custom, frontend WordPress registration page, you should follow these instructions.
The page you are creating will contain a shortcode from the Forms & Profiles Section. This page will be used to register new users to the website.
Step One – Building the Registration Form
Hover on ProfilePress and click on Forms & Profiles
Click on Add New and select the Registration form type
Enter a name for the form
Select your preferred template
Design the form with the drag & drop builder or Advanced shortcode builder.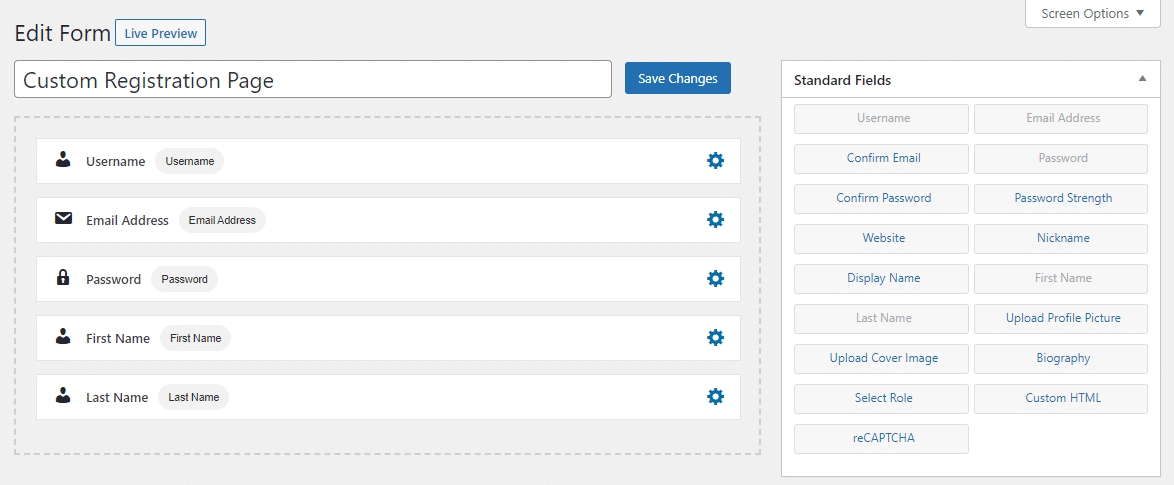 You can preview how the form will look like by clicking on the "Live Preview" button
After saving the form a shortcode will be generated for that particular form. Click on Forms & Profiles>>Registration and copy the shortcode for the newly created form.
Step Two –  Creating the Page
Navigate to "Pages -> add new" in your WordPress dashboard.
Create a new page and give it a title.
Add the form shortcode you copied earlier to the page content.
Save the page

NB: If you are using Gutenberg Block Editor you need to add the Shortcode block then paste the shortcode in the field
Step Three – Finishing up
After creating the page, you need to set the page as the default registration page in the global settings section of ProfilePress. This will cause all register links on your site to redirect/point to the registration page.
Hover on ProfilePress and click on Settings
Select the Global Settings tab
Scroll down to the registration page section and select the newly created custom registration page.
Click on Save Changes.

That's it ?