10 Best WordPress Pricing Table Plugins in 2023 (Free & Paid)
Are you looking for the best WordPress pricing table plugins for your online business?
There are a ton of pricing page plugins that you can use to sell your products and services. We recommend using responsive plugins so that the table can adjust to the screen size of all devices.
Another criterion for choosing a pricing plugin is to look for pre-built templates and a good range of customization options.
Building a table from scratch is time-consuming, so business owners prefer using pre-built templates. The templates allow you to make heavy customizations to the tables so that the design suits your branding and color.
This article lists 20 WordPress pricing table plugins to help you build beautiful, responsive pricing pages. The list includes both free and paid plugins.
Without further ado, let's dig in.
Best WordPress Pricing Table Plugins
Some of the pricing plugins are freemium, while others are premium products.
Established businesses can purchase premium plugins that offer trials for a limited time.
Growing businesses can use freemium plugins that provide access to a part of the software. Then, once your business takes off, you can upgrade to access advanced features.
That said, the plugin's cost is not the only criterion for choosing a pricing table plugin. As we said before, responsive pre-built templates, along with the ability to make heavy customization to them templates, are the winning combinations that you should be looking for.
We also recommend carefully considering each plugin's pros and cons before settling for one.
Now, let's look at the best WordPress pricing table plugins.
IMPORTANT: Below the list of best plugins, we have added a small tutorial showing you how we used one of the plugins to create a simple pricing table on our demo site. Be sure to check it out.
1. WP Table Manager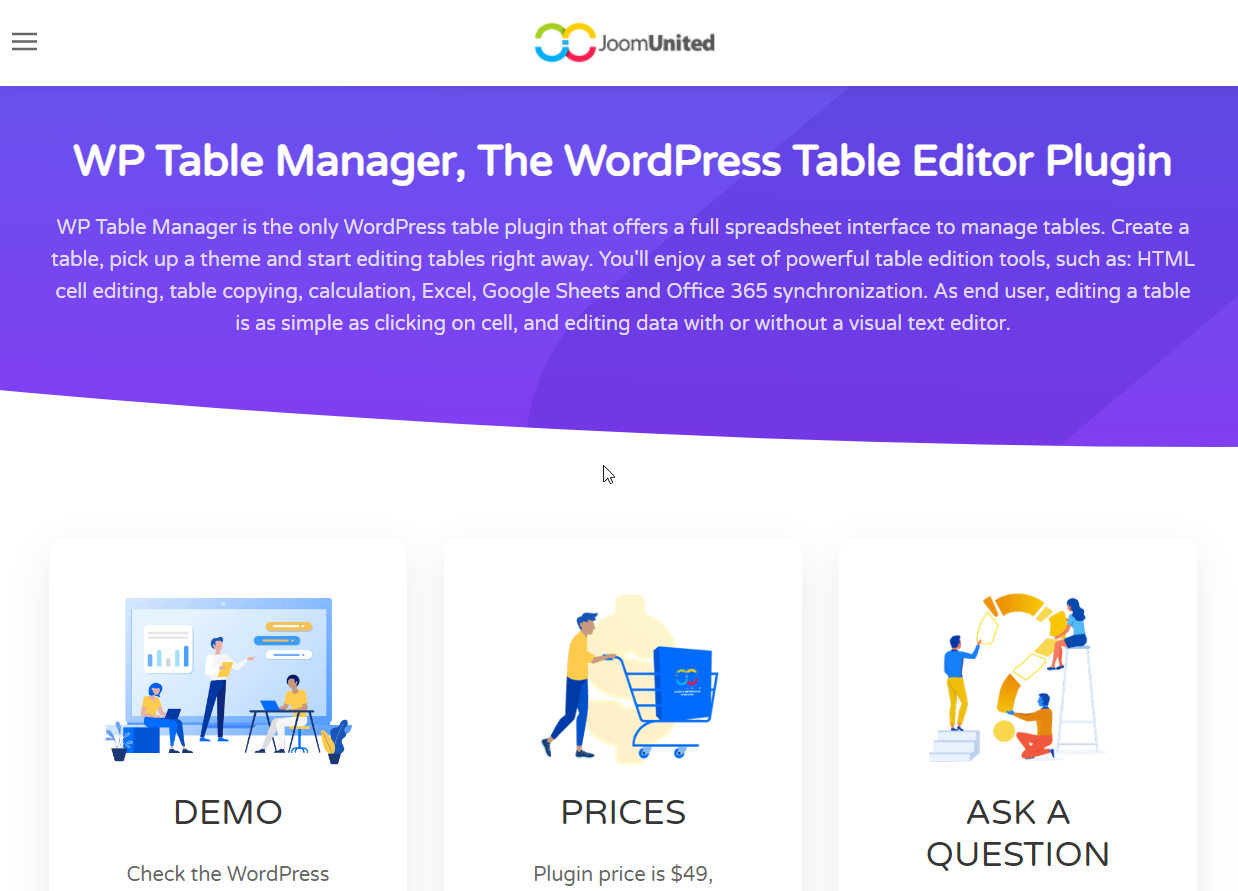 WP Table Manager is a robust table builder that displays responsive tables for all devices. It integrates well with WooCommerce and page builders like WPBakery, Divi, and Elementor.
The plugin comes with prebuilt pricing pages that can be edited to match your brand's color and style.
The visual editor is easy to use but requires some CSS knowledge to modify the tables. You can include any content like images, shortcodes, and HTML to stylize your pricing table.
WP Table Manager allows you to build unlimited rows, and the plugin has been optimized for large tables to avoid timeouts.
Our favorite feature is the ultra-fast data edition which instantly saves the text you are typing. And even if you lose a piece of data or design, you can always undo a modification with a simple right click.
Pros 
Compatible with Gutenberg and other popular WordPress page builders
Ability to add images, shortcodes, and embed HTML into the tables
It offers two mobile modes with simple scroll and column display priorities
Cons
A limited number of pre-built pricing templates
Knowledge of CSS required to make specific customizations
Price
WP Table Manager can be purchased for an annual fee of $49 and can be installed on unlimited websites.
2. WP Table Builder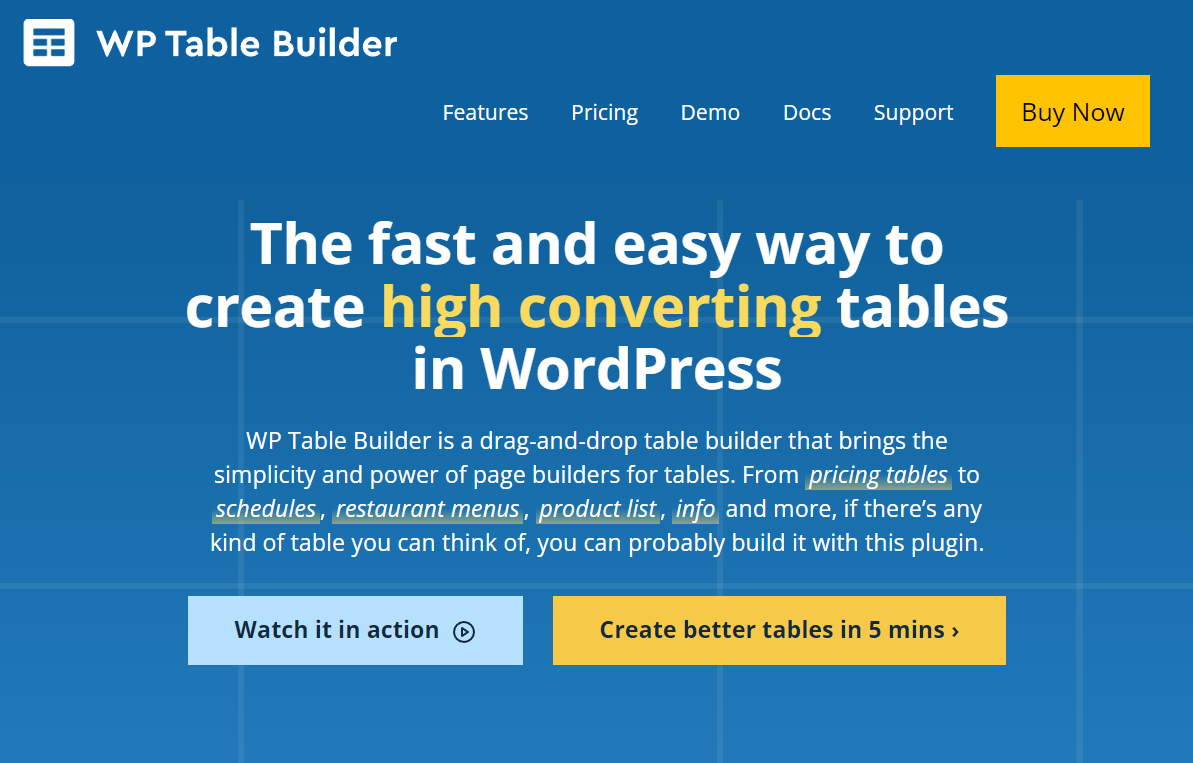 WP Table Builder is a drag-and-drop WordPress table builder. It can be used to create different tables, including the pricing table.
There are a ton of prebuilt templates to choose from. But if you wish to create a table from scratch, the plugin will help you do just that. You can save the new design as a template. You can also export the design and use it on other websites.
WP Table Builder offers control over border and background colors, padding, and margins between elements. In addition, you can apply custom CSS styling, add spacing between columns and rows and add elements like circle rating, ribbons, and styled lists to attract more conversions.
One of our favorite features is lazy loading, which ensures that the images on the tables do not bog down the pricing page. And if you have TablePress installed on your site (another popular table plugin), you can easily migrate all your tables into WP Table Builder.
Pros 
Ability to export and import files in both CSV or XML files types
Lazy loading features ensure that the pricing page loads fast
Ability to add advanced features like rating, ribbon, styled lists, etc
Cons
Essential functions like duplicating rows are only available in the premium version.
Editing large tables can be a challenge
Price 
WP Table Builder has both free and premium versions.
The free version only allows you to create a table with basic customization options.
To access prebuilt templates and advanced features like circle rating, ribbons, etc., you need to subscribe to a premium plan that starts at $39 for a single website.
3. Go Pricing Pricing Table Plugin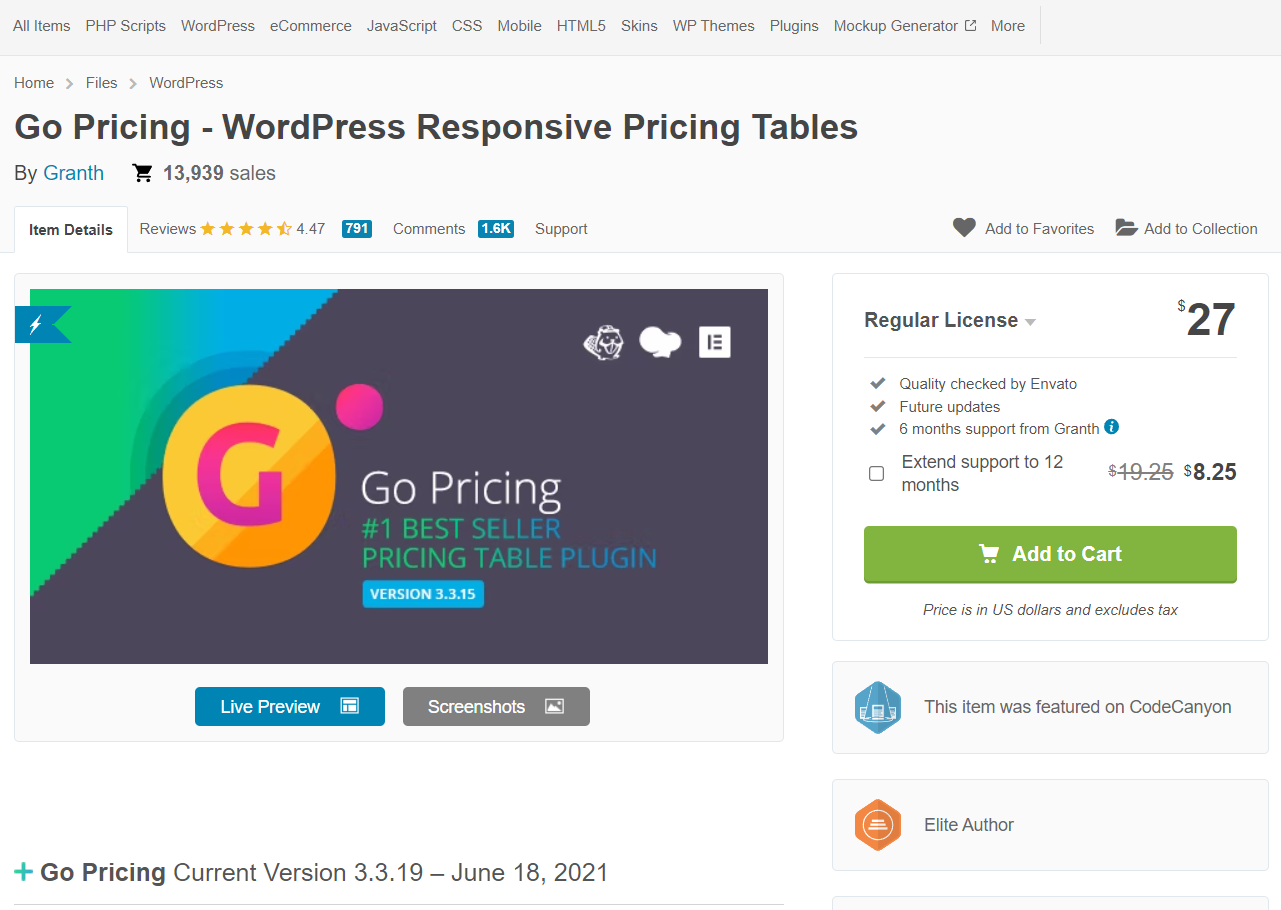 Go Pricing is a dedicated feature-rich table plugin that allows you to create stunning pricing tables on your WordPress website.
It integrates with popular page builders like Beaver Builder, WPBakery, and Elementor and works seamlessly with all WordPress themes.
Its key features are responsive design, 2000+ font icons, 650 Google fonts, audio, video, maps, bulk action, live preview, unlimited colors, rows, and buttons, and the ability to export tables and use them on a different WordPress site.
One of our favorite features is the animation that you can add to the columns to attract the attention of your potential customers.
Despite offering many features, the plugin has a clean admin interface, making it easy to operate.
Pros
Compatible with three popular page builders – Elementor, Beaver Builder and WPBakery
Feature-rich plugins allow you to customize according to your needs
Ability to add audio, video, maps, and animation to the table
Cons
Poor customer support reported by many existing customers
Price
You can get the plugin for $27, but developers will support you for only six months. To extend access to support for a year, you will need to pay $19.25 extra.
4. CSS3 Responsive WordPress Compare Pricing Tables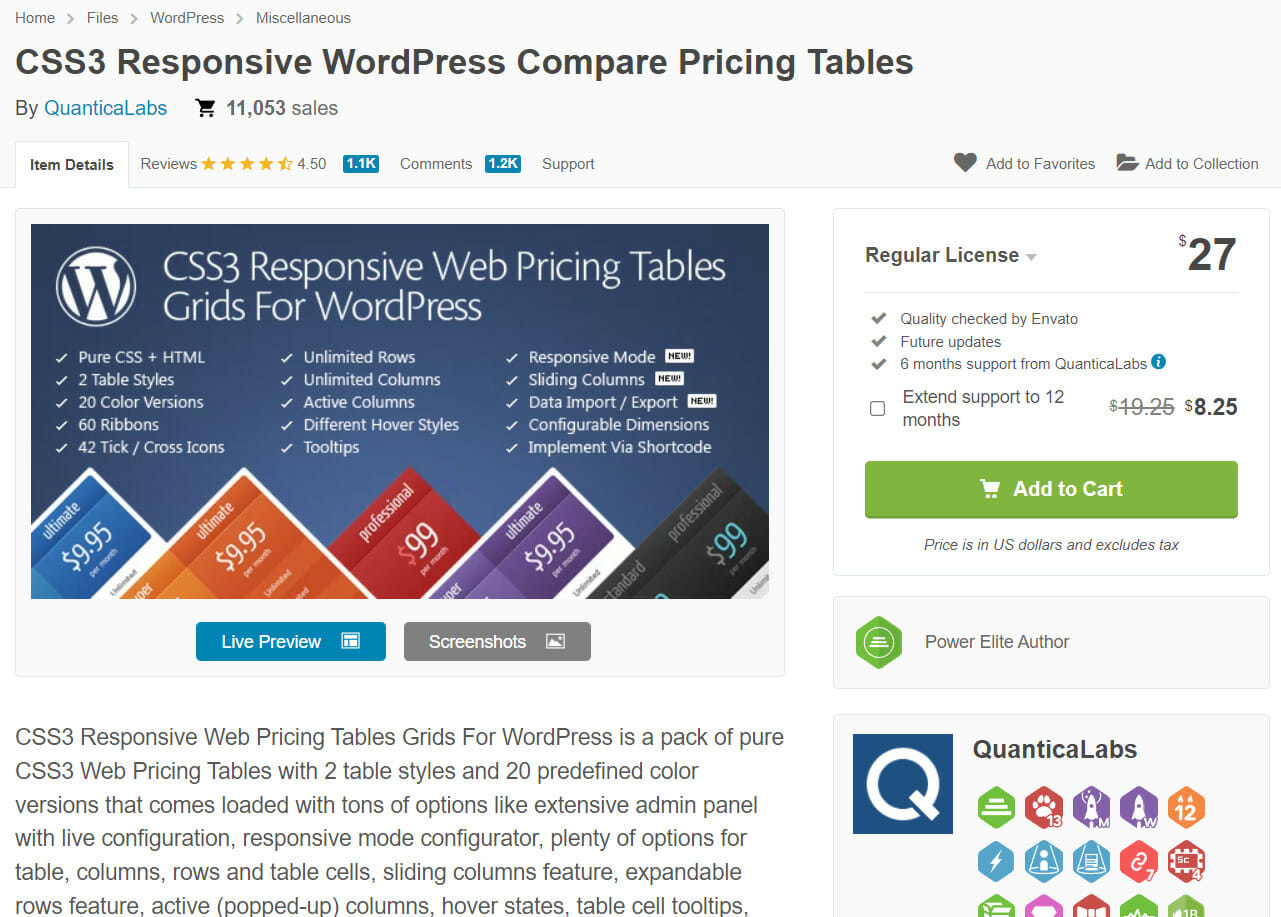 CSS3 Responsive WordPress Tables comes with 2 table styles along with 20 predefined color options. The tables are constructed using CSS and HTML only. The responsive designs ensure that your pricing tables fit all screen sizes.
The plugin offers an extensive collection of customization tools, including 40 icons and 60 ribbons to help certain table parts stand out.
You can create an unlimited number of tables on your website, and each table can have a total number of rows and columns. In addition, you can add different hover styles, toggle between column highlights, sliding columns, and expandable columns, and preview all changes using the Live Preview feature.
The export-import feature allows you to import settings from other plugins and use them on your current website.
Pros
Create unlimited tables, rows, and columns on your WordPress site
Ability to highlight columns so that visitors choose your preferred price
Add drop-down menus to let visitors change the information being displayed to showcase different types of pricing
Cons
There are only two styles and 20 color options to choose from
Price
CSS3 Responsive WordPress Compare Pricing Tables is a premium software, and you can purchase it for $27.
You will get six months of support, and it can be extended to 12 months by paying $20 more.
5. ARPrice Pricing Table Plugin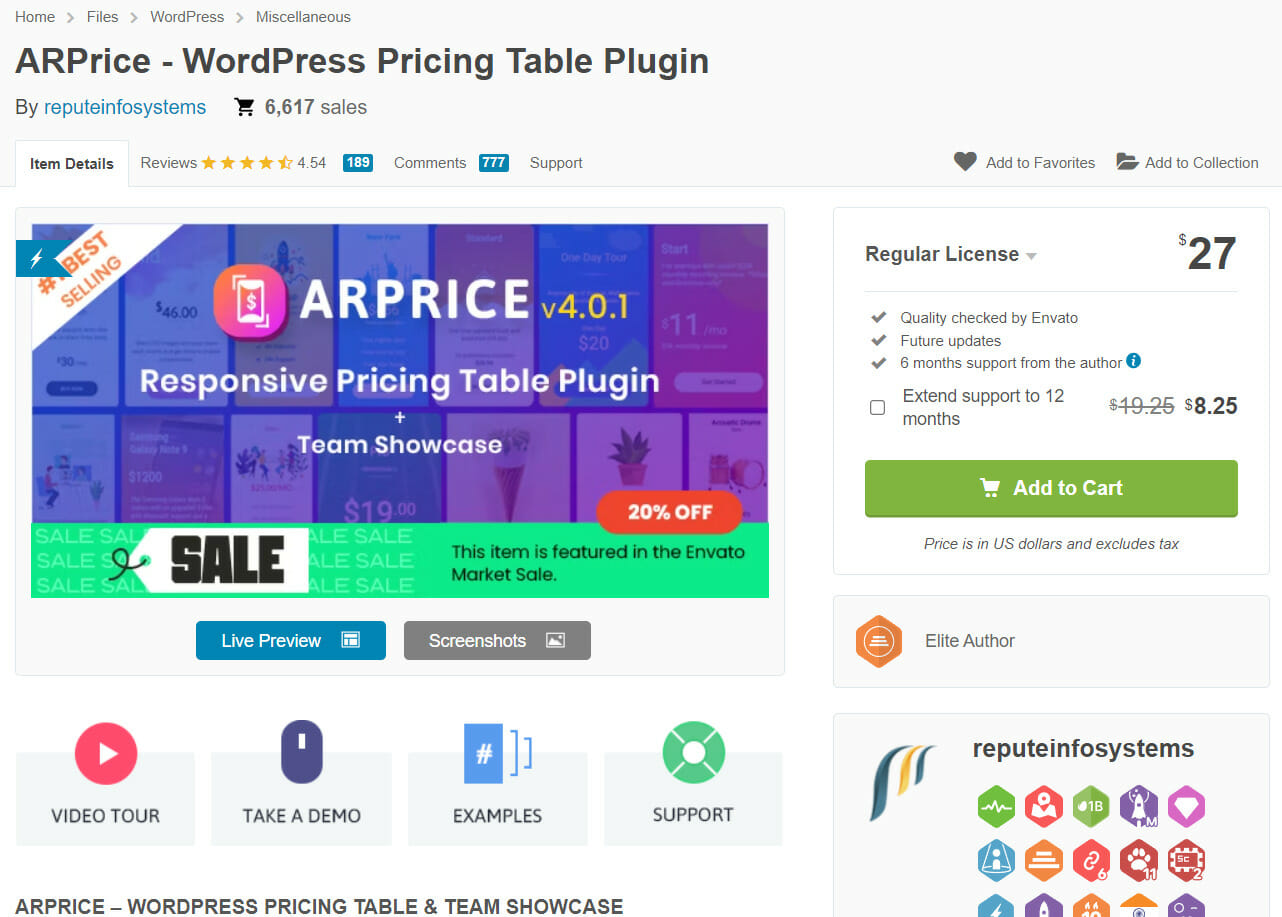 ARPrice plugins are designed to build pricing and comparison tables on WordPress websites. It offers 20 different pricing templates, each with 10+ other color options, 2000+ color icons, and 900+ fonts.
Building a table with ARPrice is super easy. It has a real-time editor that allows you to preview your changes instantly. In addition, you can add toggle switches (weekly, monthly, and yearly), integrate videos, and add animation and effects like slide, fall, hover, swings, fade and glow.
The plugin supports popular WordPress builders like Elementor, Beaver Builder, Divi, WPBakery, King Composer, and Cornerstone. It also integrates with PayPal seamlessly.
Using ARPrice's export-import feature, you can export the tables built on one website and use them on another site.
Pros 
JS and CSS load only where the shortcode is placed, making the plugin lightweight
The tables are responsive and resize automatically to fit any device or display.
Allows A/B testing to figure out which pricing table has a better conversion rate
Cons
Many existing customers report that the frontend builder is laggy and buggy.
Price 
You can get the plugin for free, but it supports only a limited number of features. For instance, the free version is only compatible with the Gutenberg Editor.
To access all the features we have listed above, you need to premium version that you can purchase for $27, along with six months of support. Extending support for a year will cost you $20 extra.
6. Easy Pricing Tables WordPress Plugin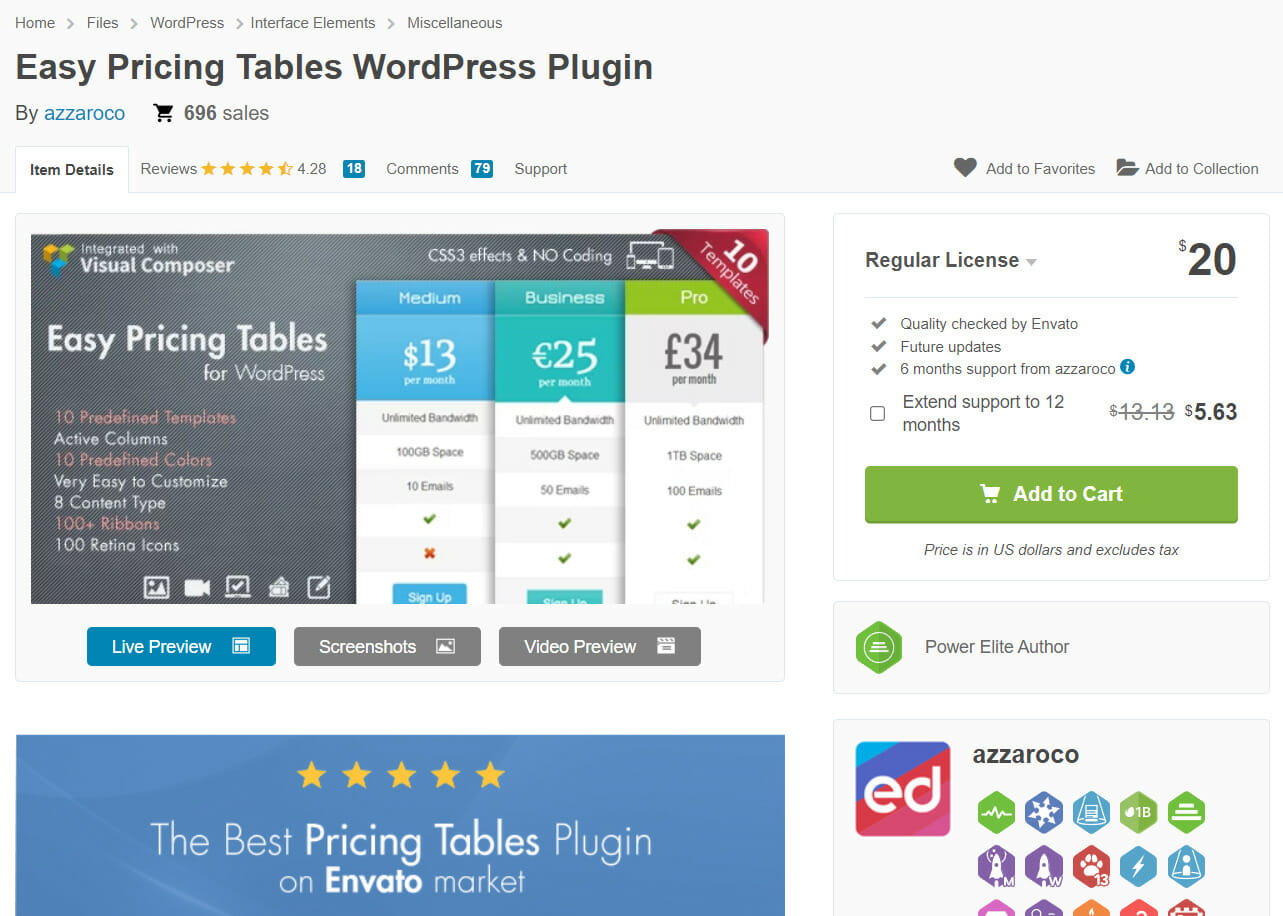 Easy Pricing Tables come with ten modern-looking preset designs. You can adjust the colors, columns, fonts, buttons, and border settings according to your needs. You can also use custom CSS modules to style your pricing tables.
Easy Pricing Tables is one of the simpler WordPress pricing page plugins, which means you can't add elements like graphics and animation effects. But you can create as many rows as you want and drag and drop to reorder the columns according to your needs. You can also add a hover effect and preview the table before making it live.
It integrates seamlessly with WooCommerce, Easy Digital Downloads, Stripe, and the Pricing Toggle add-on. In addition, you can connect to Google Analytics and monitor how your pricing pages are performing.
The plugin is compatible with the WPBakery page builder and allows you to add HTML content if none of the predefined elements meets your needs.
Pros
Ability to add nine different elements (title, text, price, button, icon, image, video, HTML, and shortcode) to the tables
Ability to add over 100 different icons and 120 different ribbons
Cons 
Only ten color schemes to choose from
Integrates only with WPBakery
Price
The plugin is premium software and can be purchased for $20. The developers will provide six months of support, but if you want to extend support to 12 months, it will cost $13.13 extra.
7. Pricing Table by Supsystic
The Pricing Table by Supsystic help you build a stunning and responsive pricing table. Using its drag-and-drop builder, you can create unlimited tables and add unlimited columns and rows. You can also add hover animation, images, videos, icons, custom headers, feature lists, buttons, and toggle switches.
There are some 40 prebuilt templates available so that you don't have to build a template from scratch. You can, of course, customize the templates so that they match your site's branding and color.
The plugin allows you to highlight a column and make additional changes using the CSS editor.
Pros 
Ability to allow potential customers to toggle between two price plans
40 different prebuilt pricing table templates to choose from
Ability to make additional changes using the custom CSS
Cons
Existing customers have reported that the plugin is buggy and difficult to use
Some customers find it hard to save the tables they create
Price
You can get the plugin for free and utilize most of the features we have listed above. The premium version offers access to a pack of premium templates and role restrictions.
For a single site, you can get the premium version for an annual fee of $46.
8. Responsive Pricing Table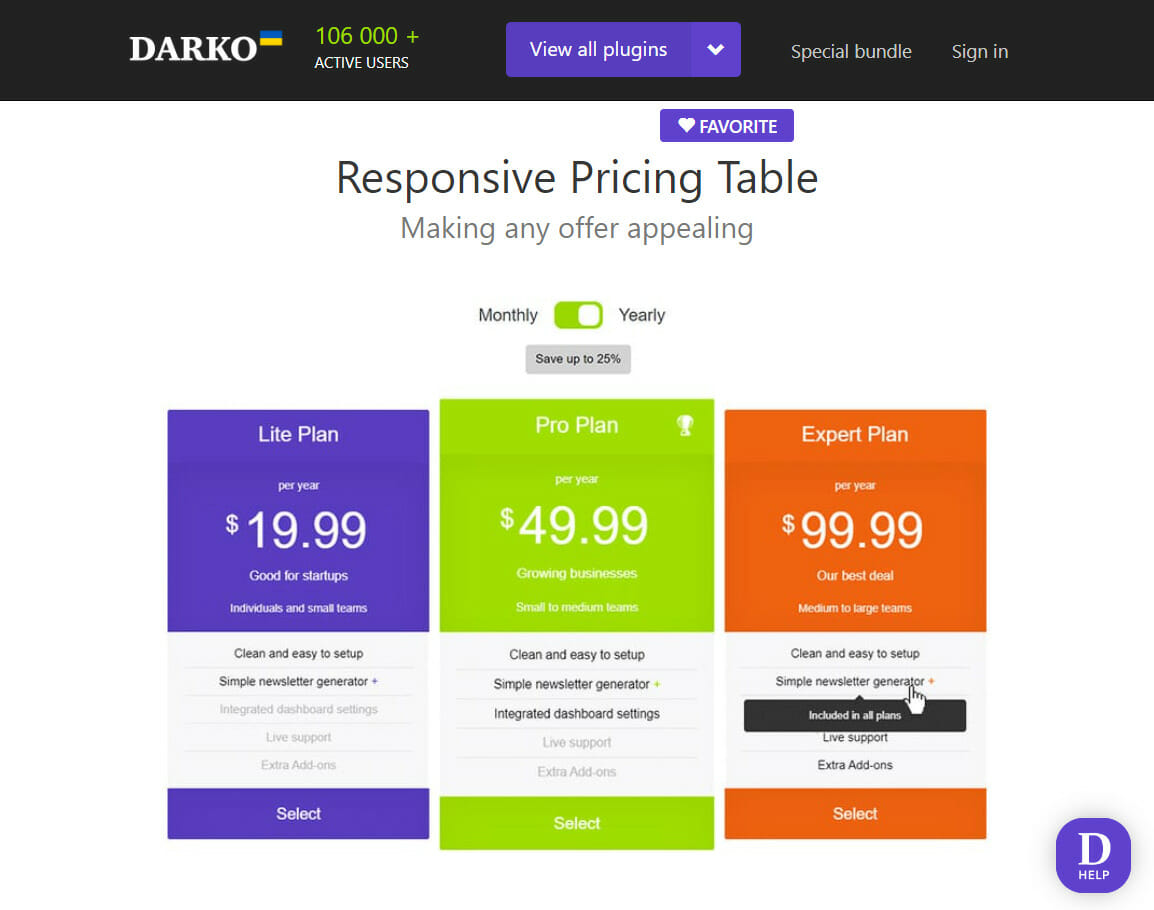 As the name suggests, the Responsive Pricing Table by Darko is very responsive and accommodates all screen sizes.
With this plugin, you can display two different prices using a price toggle button. You can add info bubbles to your features and choose different visual styles for your pricing tables.
The plugin allows you to highlight a column to slightly nudge the potential customer to buy the plan you prefer. Other features include changing or removing currency, equalizing the length of your plans, and using shortcodes to display the tables on any page.
The plugin supports payment gateways like Stripe and PayPal. To add more features to your pricing table, you can use custom CSS.
Pro
Ability to add advanced customizations using CSS
Wide range of currency signs available for your target audience
Ability to highlight and add badges to the plans
Cons
Limited options to customize the table; for instance, no option to add animation and other effects.
Price
Most features are available in the free plugin, but if you want to access the price toggle, plan equalizer, info bubbles, etc., you need to upgrade to the premium plan.
For a single site, you need to purchase an annual plan of $19, but to use the plugin on unlimited websites, you need the $49 yearly plan.
9. WRC Pricing Tables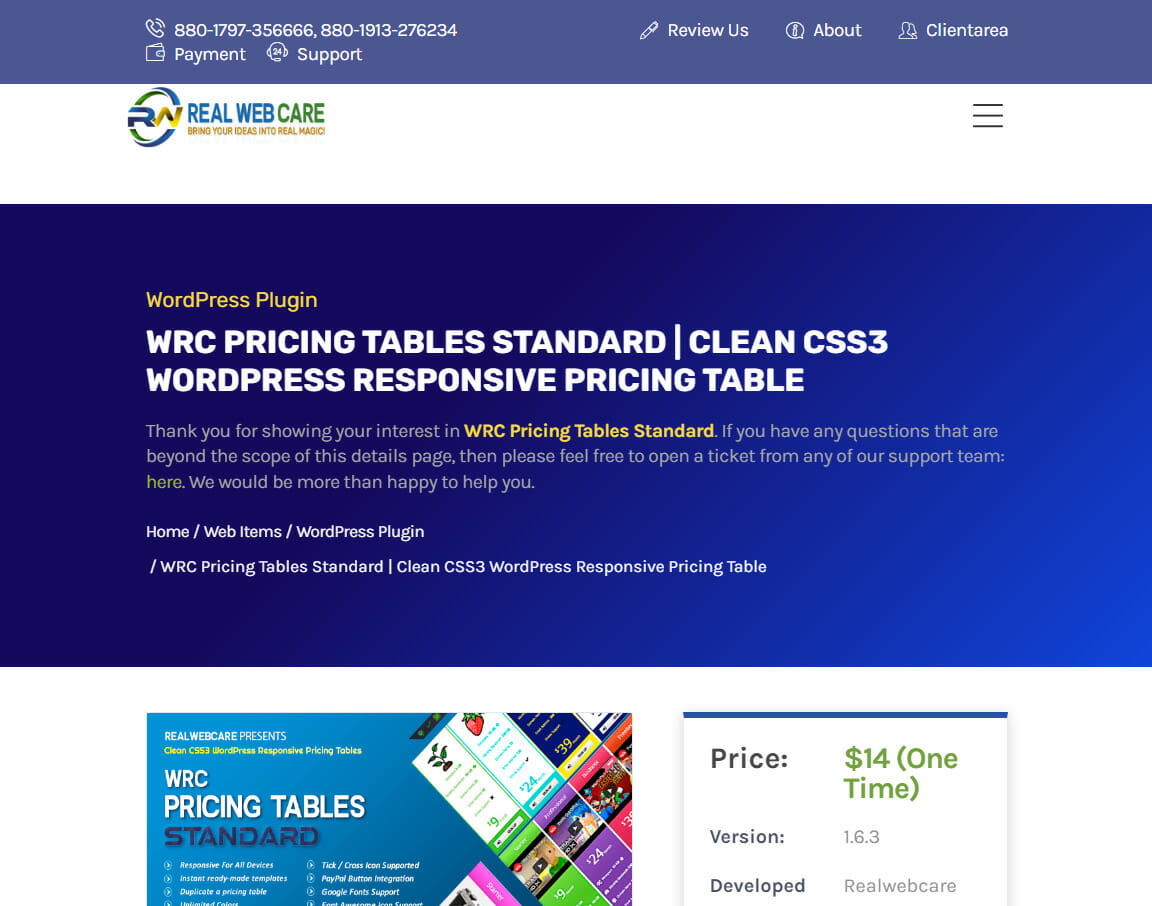 WRC Pricing Tables by Realwebcare offers 50+ prebuilt templates that you can use to create beautiful responsive pricing page tables.
You can add rows and columns to the table if you want. Then, rearrange them using the drag-and-drop editor, and modify the table's color using the plugin's 18 color palettes.
You can add ribbons, info bubbles, buttons, tick or cross icons, star ratings, pricing toggle buttons, and more. In addition, you can disable shadows when highlighted and add simple animations, like enlarging columns upon hovering.
One of our favorite features is the ability to hide or disable columns instead of deleting them and the ability to duplicate tables instead of building them from scratch. And, of course, you can export the plugin's settings and use it on a different website.
Pros
Hide any parts of the pricing table, including columns, and empty features
Offers 50+ prebuilt pricing tables templates and 20 checks or cross icons to choose from
Ability to add ribbons and simple animations to columns on the table
Cons
Only allows PayPal integration
Upgrading from the free to the premium version requires you to copy your tables manually.
Price
Some of the features are available in the free plugin but to access features like duplicating a pricing table, PayPal integration, export-import, etc., you need the premium plugin, which costs $14.
10. Pricing Table – Price list, Price Table, Easy Pricing Table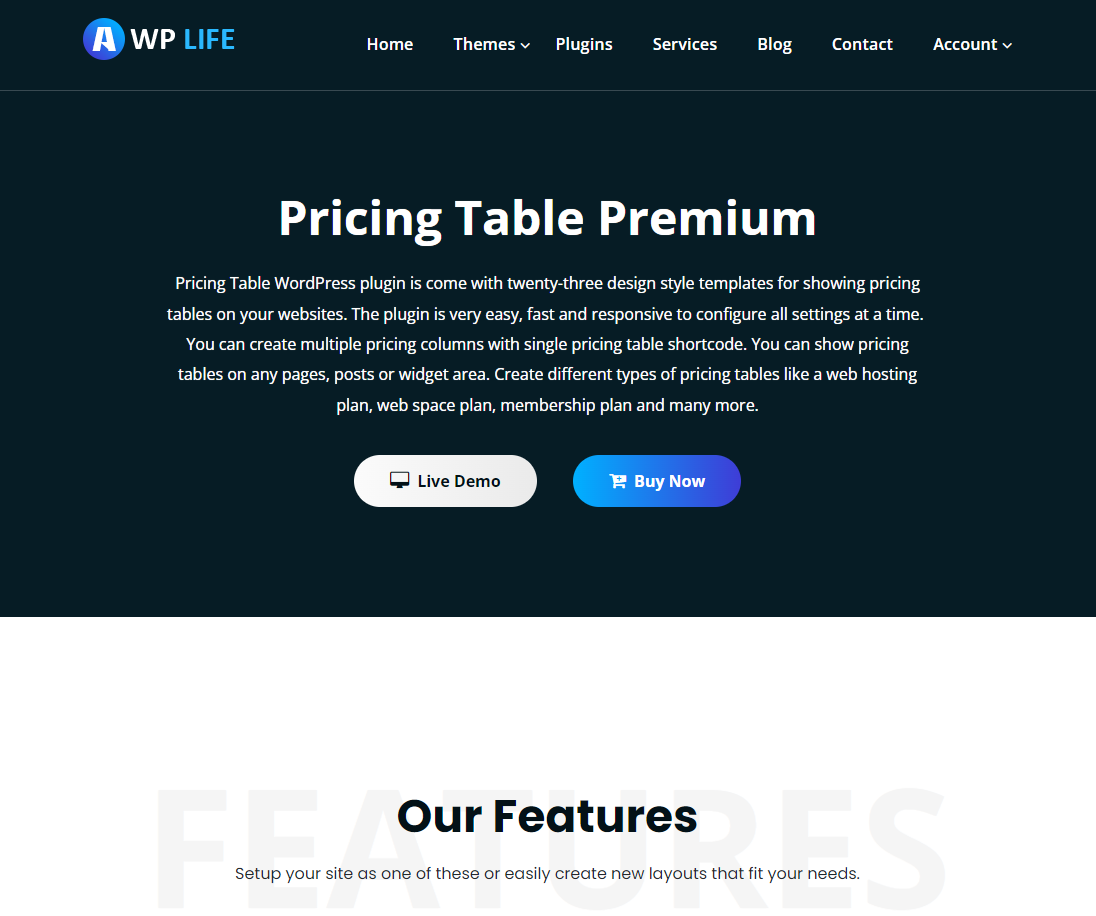 The Pricing Table by A WP Life offers 23 different pre-built pricing plan table templates. The templates are fully responsive, but if you want, you can easily create new tables that fit your needs.
You can insert icons, feature lists, and Buy Now buttons and add tags to the columns like "popular," "hot," etc., to create more visually-appealing tables. Customization options include unlimited color options, changing text size and button icons, adding info bubbles, adding custom CSS to further modify the tables, etc.
The plugin supports Elementor page builder. You can display the table anywhere on your WordPress website using the shortcode or the unique Post ID.
Pros
Ability to add button icons, info bubbles, and unlimited colors to the table
Ability to add tags like "popular," "hot," etc., to the columns
Cons
Support only Elementor page builder
Price 
The A WP Life Pricing Table has a free version that offers limited access to the features we spoke of. To access all the plugin's features, you will need to purchase the premium version for a one-time fee of $15.
Conclusion
Choosing a table plugin for your pricing page can be difficult due to the sheer number of available tables.
But this article has narrowed it down to the ten best pricing table plugins.
Depending on the cost and your need for control, you can purchase any of the above pricing table plugins to create professional-looking tables for your online business.