5 Best WordPress eCommerce Plugins For Your Store in 2023
Are you looking for the best WordPress eCommerce plugin to start an online store?
WordPress is widely used to create eCommerce websites due to its popularity as a website builder. One of the many advantages of using WordPress is having access to a variety of powerful eCommerce plugins.
With so many different plugins available, deciding which one is right for your store can be difficult. Each plugin has its own set of features and use cases, and selecting the right one can make all the difference in the success of your online store.
In this article, we'll guide you through the key features to look for in a WordPress eCommerce plugin and provide an overview of the best ones to help you make an informed decision.
Let's get started!
What Are the Types of Products You Can Sell With an eCommerce Plugin?
Selecting the right plugin for your store is an important decision. The type of products you want to sell will determine which plugin is best suited for you.
Here are some examples of different types of products that you can sell with an eCommerce plugin:
Physical Products: This is probably the most common type of product sold online. To sell physical products, you should look for a plugin that offers shipping and inventory management features.
Digital Products: Digital products are becoming increasingly popular due to their ease of delivery and low overhead costs. If you want to sell digital products such as eBooks, music, or software, you should look for a plugin that securely delivers digital files to your customers.
Membership and Subscriptions: Membership and subscription-based products are popular for generating recurring revenue. If you want to offer access to exclusive content or services, you should look for a plugin that provides automatic billing and subscription management.
What Features To Look For in a WordPress eCommerce Plugin?
When choosing an eCommerce plugin for your WordPress website, below are the few important features you'll want to consider.
Payment Gateway
Payment gateway support is a crucial feature to consider when selecting an eCommerce plugin. It's recommended to opt for a plugin that supports widely used payment gateways such as PayPal, Stripe, and Square. In addition, ensure that the chosen plugin provides a diverse range of payment options, including credit cards, debit cards, and digital wallets, to cater to your customer's preferences.
Integrations with external tools
Your chosen plugin should effortlessly integrate with other tools and systems you use to manage your business operations. This includes email marketing software, shipping carriers, and inventory management systems. Integrating with these tools helps you streamline your business processes, automate tasks, and gather more insights into your store's performance.
Compatibility with other plugins
Regarding compatibility, it is essential that the eCommerce plugin you choose does not conflict with other plugins on your website. This helps avoid incompatibility issues that could cause website crashes or slow down. You can check reviews and support forums to ensure that the plugin you choose is compatible with your website's infrastructure.
Customization Options
Customization options allow you to personalize the appearance of your online store, aligning it with your brand's unique identity. When choosing plugins, be sure to search for ones that offer a broad range of customization options, such as custom store design, color scheme, and fonts. You may also want to look at advanced options such as custom checkout pages and branded shopping emails to enhance the customer experience and reinforce your brand's value.
Support
The value of eCommerce support is only realized in moments of crisis. Your customers expect your store to be always available and functional, and your ability to promptly address issues can determine your business's success or failure.
To ensure your website is always working, selecting eCommerce plugins that offer exceptional customer support is recommended. This includes access to a dedicated support team, 24/7 availability via live chat or email, and comprehensive documentation covering all the plugin's ins and outs.
Based on these features, let's look at the best WordPress eCommerce plugins.
5 Best WordPress Ecommerce Plugin To Get the Most Out of Your Store
From seamless payment gateways to several customization options, these plugins offer a wide range of features to help create the perfect eCommerce experience for your users. Let's take a closer look at them one by one.
1. ProfilePress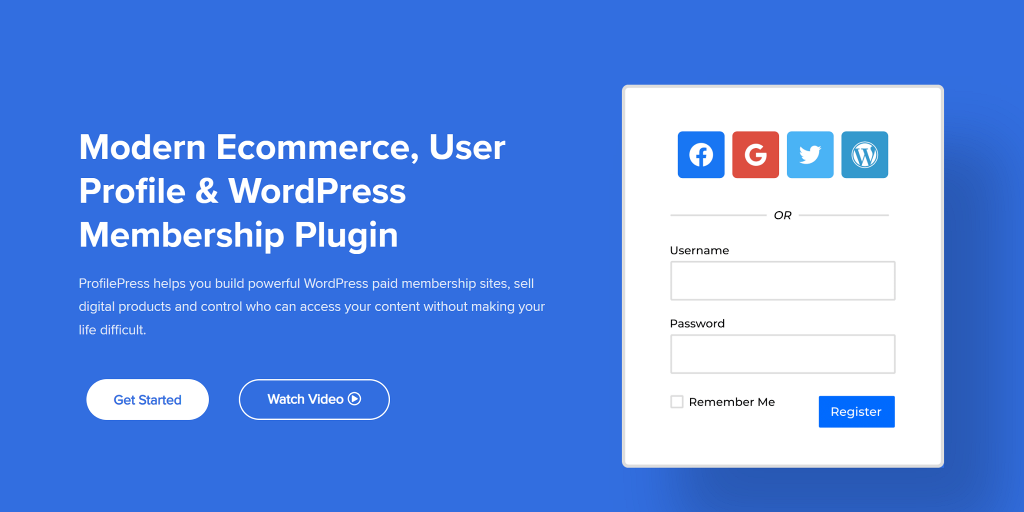 ProfilePress is the best WordPress eCommerce plugin to help you take your online store to the next level. With this premium plugin, you can easily create a fully featured online store having features like membership systems, multiple payment gateways, product pages, and more.
It is a perfect plugin to sell digital products such as images, videos, music, podcasts, spreadsheets, templates, audio files, eBooks, stock photos, PDFs, plugins, software, and more.
It is highly customizable and works with all popular themes. Additionally, it has an integrated analytics dashboard that provides detailed reports on how your store is doing, allowing you to make data-supported decisions about how to improve it.
Key Features
You can use ProfilePress to build powerful WordPress paid membership sites, sell digital products, and control who can access your content.
It supports multiple payment gateways such as Stripe, PayPal, Razorpay, Paystack, and Mollie for accepting one-time and recurring payments.
It helps you create beautiful user profiles, member directories, and forms for login, registration, password reset, and edit profile with drag-and-drop form builder.
It allows you to restrict access to pages, posts, categories, tags, and custom post types based on your protection rules.
You can create conversion-optimized checkout forms, coupon codes & discounts, free trials, and customizable payment plans.
It supports social login with Facebook, Twitter, Google, LinkedIn, Yahoo, Microsoft, and others.
It offers reliable and responsive ticket-based support via its website. You can also access the extensive documentation from its website that covers everything from installation to configuration.
Pricing
ProfilePress offers simple pricing plans with a 14-day money-back guarantee. It has different plans depending on your needs and budget. The Standard plan costs $99/year for one site and includes all core features plus 11 add-ons such as custom fields, email confirmation, social login, and more. The Plus plan costs $249/year for three sites and includes all the paid add-ons. The Agency plan costs $499/year for unlimited sites.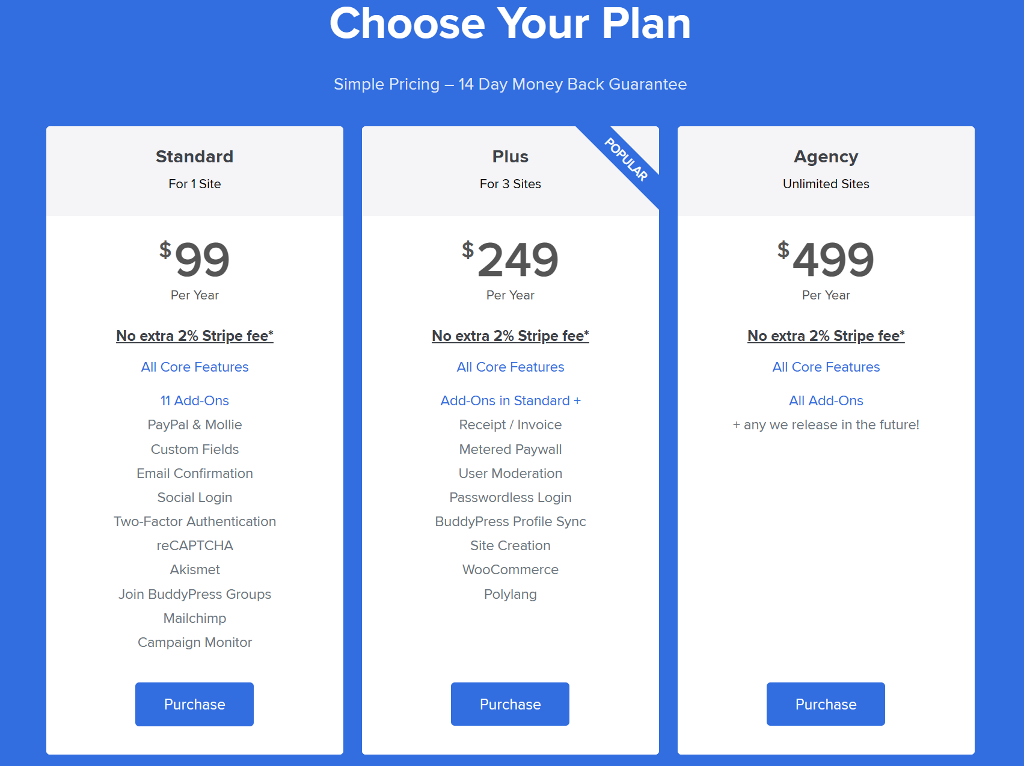 Apart from the premium version, ProfilePress has a free plugin available on the WordPress repository that includes all core features and an additional 2% Stripe fee.
2. WooCommerce

WooCommerce is one of the most popular free WordPress eCommerce plugins that provides exceptional flexibility and customization options for your online store. 93.7% of all WordPress eCommerce websites use WooCommerce.
Unsurprisingly, the plugin offers many features, including support for physical and digital goods, product variations, and affiliate products.
You can also use it to offer bookings, memberships, and subscriptions. What's more, it's highly compatible with a wide range of themes, plugins, and payment gateways.
Key Features
WooCommerce is flexible and scalable, allowing you to customize your store with hundreds of free and paid extensions.
It supports all major payment gateways like PayPal, Stripe, Square, and Authorize.net.
The open-source nature of it gives you full ownership of your store's content and data forever.
It has built-in inventory management that lets you track stock levels and hide out-of-stock products.
Advanced analytics that provides detailed reports on sales, revenue, and customer behavior.
It lets you set up tax rates based on the customer's location and product type.
Excellent documentation and detailed tutorials are available within the WooCommerce platform and on external websites.
Pricing
WooCommerce is free to use. However, there are hundreds of free and paid extensions available to help you customize your store and add extra features. The paid extensions range from $29-$299 per year, depending on the type of extension you choose.
3. Easy Digital Downloads (EDD)
Easy Digital Downloads is a feature-rich WordPress eCommerce plugin that makes selling digital goods simple. It has all the features you need to create a digital online store, including payment gateway integration, discounts and promotions, shopping cart management, and more.
To help you expand the features of your store, it includes a wide range of add-ons and extensions, such as email marketing, customer management, and advanced reporting. Plus, it's easy to customize, so you can ensure your store looks exactly how you want it.
Key Features
Works with almost any WordPress theme.
It supports multiple payment gateways like Stripe, PayPal, Amazon Payments, Braintree, Authorize.net, and more.
It provides a complete solution for selling license keys and distributing software updates to customers.
It comes with a built-in shopping cart system that lets your customers buy multiple downloads at once.
Powerful data reporting that shows you stats and custom reports on your sales and downloads.
It is developer-friendly and includes a range of hooks and filters that allow you to modify the plugin's behavior.
It provides extensive documentation and ticket-based support.
Pricing
Easy Digital Download has a range of pricing plans to choose from, ranging from a personal pass at $199/year for one site to an access pass costing $999/year for the use on three sites. Each plan comes with a set of features, and you can always upgrade or downgrade your plan at any time to fit your business needs.
4. BigCommerce for WordPress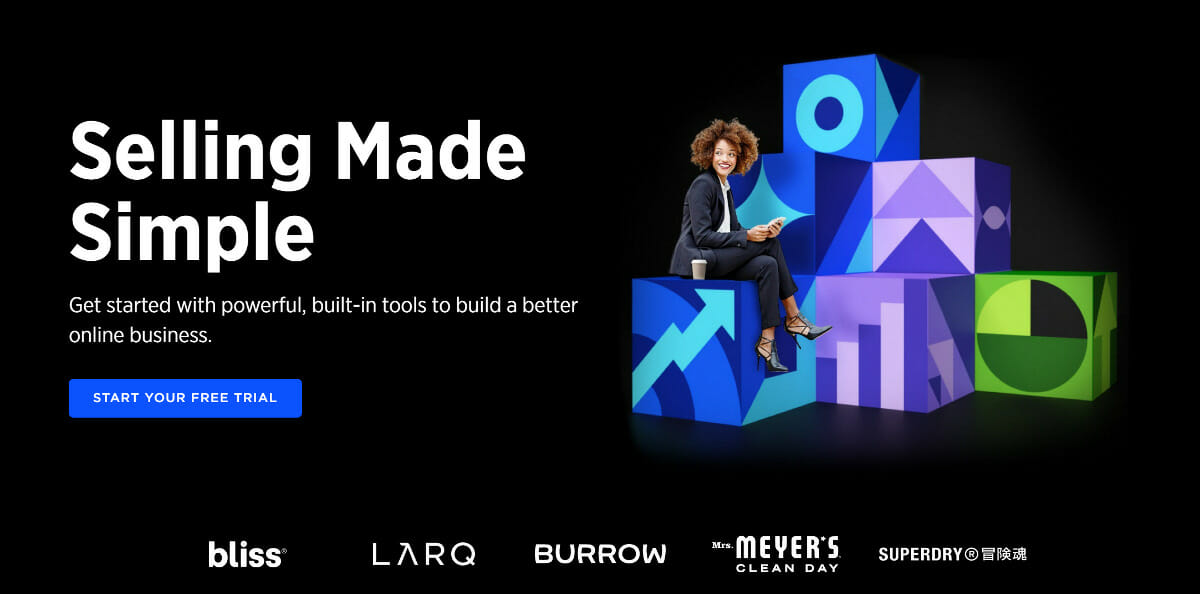 BigCommerce is a powerful eCommerce platform that seamlessly integrates with WordPress to help you create robust online stores. What's unique about this tool is that you can use WordPress for the front end while BigCommerce manages the back end. This helps you free up server resources that can slow down your website.
It is a fully hosted platform that offers unlimited customization and access to a range of eCommerce features, including catalog management, currency handling, logistics support, payment processing, and more.
Key Features
Easy scalability with enterprise-grade security and high performance.
It supports 65 payment gateways, including PayPal, Stripe, Checkout, Authorize.net, and more.
Allows you to sell across multiple channels such as eBay, Amazon, Facebook, Instagram, Google Shopping, and Square from a single screen.
Embedded checkout experience that prioritizes customer security and PCI compliance.
Flexible shipping options, including support for all major global carriers, real-time shipping rates, and label printing.
You can save time and reduce errors with bulk listing and automatic inventory syncing.
You get responsive customer support available 24/7 via phone, email, or live chat.
Pricing
BigCommerce offers three plans, with pricing starting at $29/month for the Standard plan and going up to $299/month for the Pro plan. All plans include multi-currency support, coupon and gift card generation, and no commission fees. Payment can be made monthly or annually, according to your preference, and a 15-day free trial is available to test the platform before committing to a paid plan.
5. WP EasyCart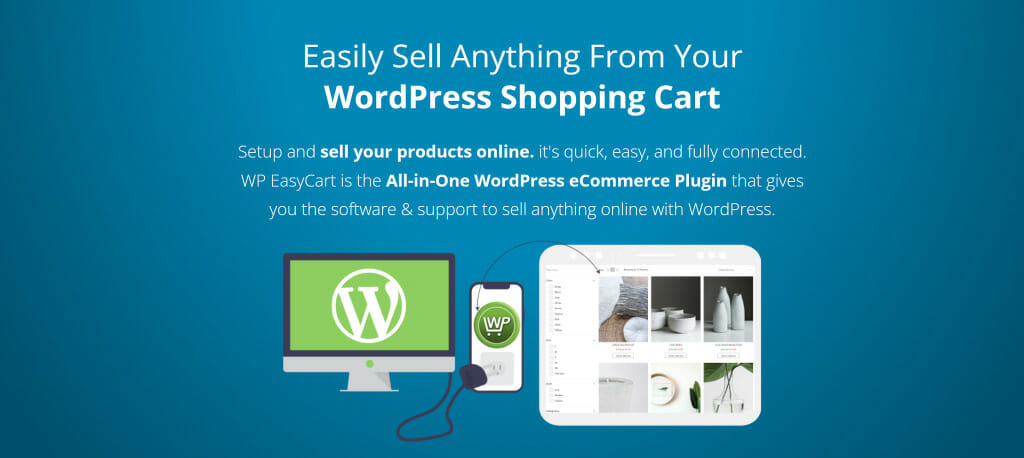 WP EasyCart is a user-friendly WordPress eCommerce plugin with robust shopping cart features. This makes it a perfect choice for those who want to set up an online store without investing significant time or money.
It offers seamless integrations with popular payment gateways and tools like MailChimp and QuickBooks. It also includes features like coupon codes, promotions, order editing, and subscriptions, making it a complete solution for managing sales and customer data.
Key Features
Simple interface for easy setup and management.
It integrates with 30+ payment gateways with no additional commission fee.
Customizable store design and product options with unlimited images and videos.
It lets you sell everything from physical products to digital downloads, subscriptions, and more.
You can print sales receipts & packaging slips, add shipping notes, email customers, and view order information from one dashboard.
Pricing
WP EasyCart provides two pricing options – Pro and Premium. The Pro plan starts at $69/year and includes all the core features, 30+ payment gateways, abandoned cart automation, coupons, and promotions. The Premium plan, priced at $89/year, includes premium extensions such as Facebook and Instagram Shop QuickBooks Desktop and MailChimp eCommerce.
That's it! These are the best WordPress eCommerce plugins that you can use to get the most out of your store.
Conclusion: Which Is the Best WordPress eCommerce Plugin?
The best WordPress eCommerce plugin will vary based on your needs. Each plugin offers unique features and pricing plans.
After comparing the above plugins, WooCommerce stands out as the best option for those who want to sell physical products with plenty of customization options. However, if you prefer to sell digital products, ProfilePress is the best option. It has a robust set of features and flexibility, making it the perfect choice for digital product sellers.
Try ProfilePress today!