How to Integrate Mailchimp With WordPress
Email still remains the popular form of communication used for exchanging digital messages on the Internet.
Visitors to your website will often opt-in for information and follow-up messages if they see something of interest and value. If you offer say digital products for sale, such visitors may not be ready to buy just yet; they may need more information to make a buying decision.
When the email addresses of these visitors are captured, you the store owner can send them a discount on your products thus increasing the likelihood of them making a purchase.
One popular email marketing service is Mailchimp. In this tutorial, we will learn how to integrate Mailchimp with WordPress using our powerful Mailchimp addon.
Getting Started
Firstly, ensure the ProfilePress plugin is installed and activated and the Mailchimp addon enabled.
Go to Settings >> Mailchimp and enter your account API key and hit the Save Changes button.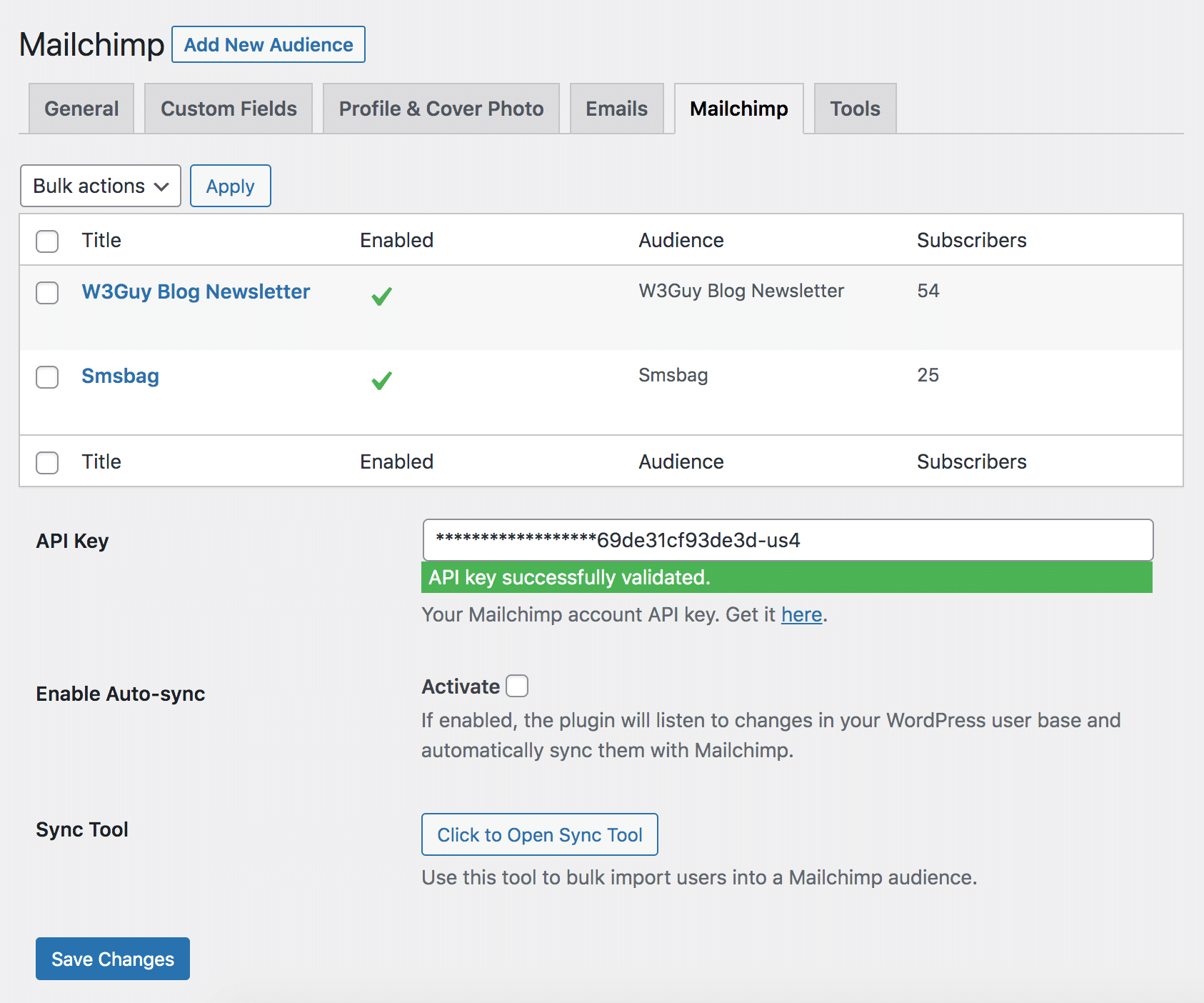 Click the "Add New Audience" button to add the audiences that users can subscribe to. You have the options to map fields, enable double optin and decide whether to automatically add new users when they register without them having to explicitly opt-in.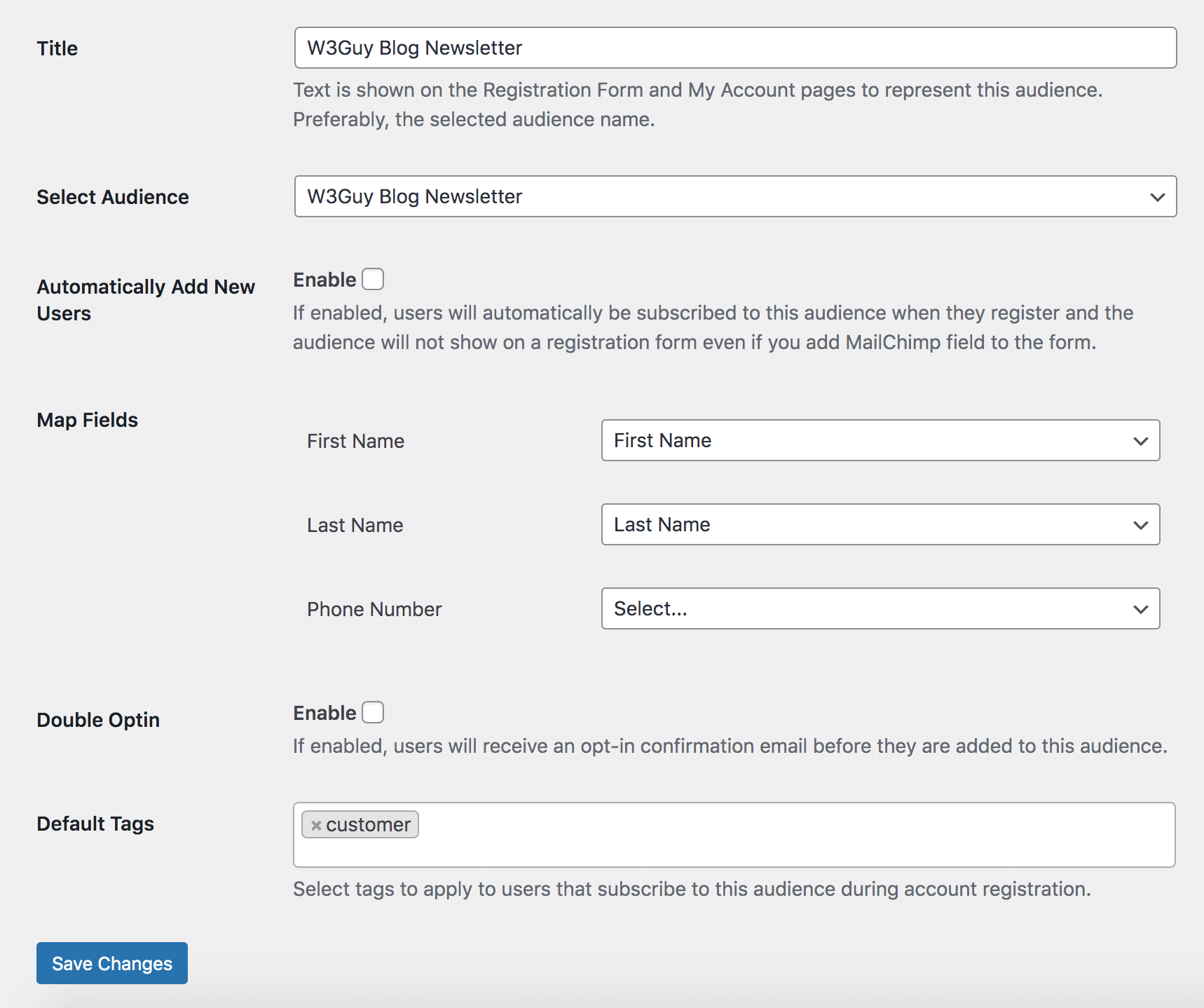 To allow users to decide whether to opt-in or not to your list, add the Mailchimp block if you are using the drag-and-drop form builder or the shortcode [pp-mailchimp] (if using the advanced form builder) to your custom registration form which will display a checkbox for users to select the audience, they wish to be subscribed to.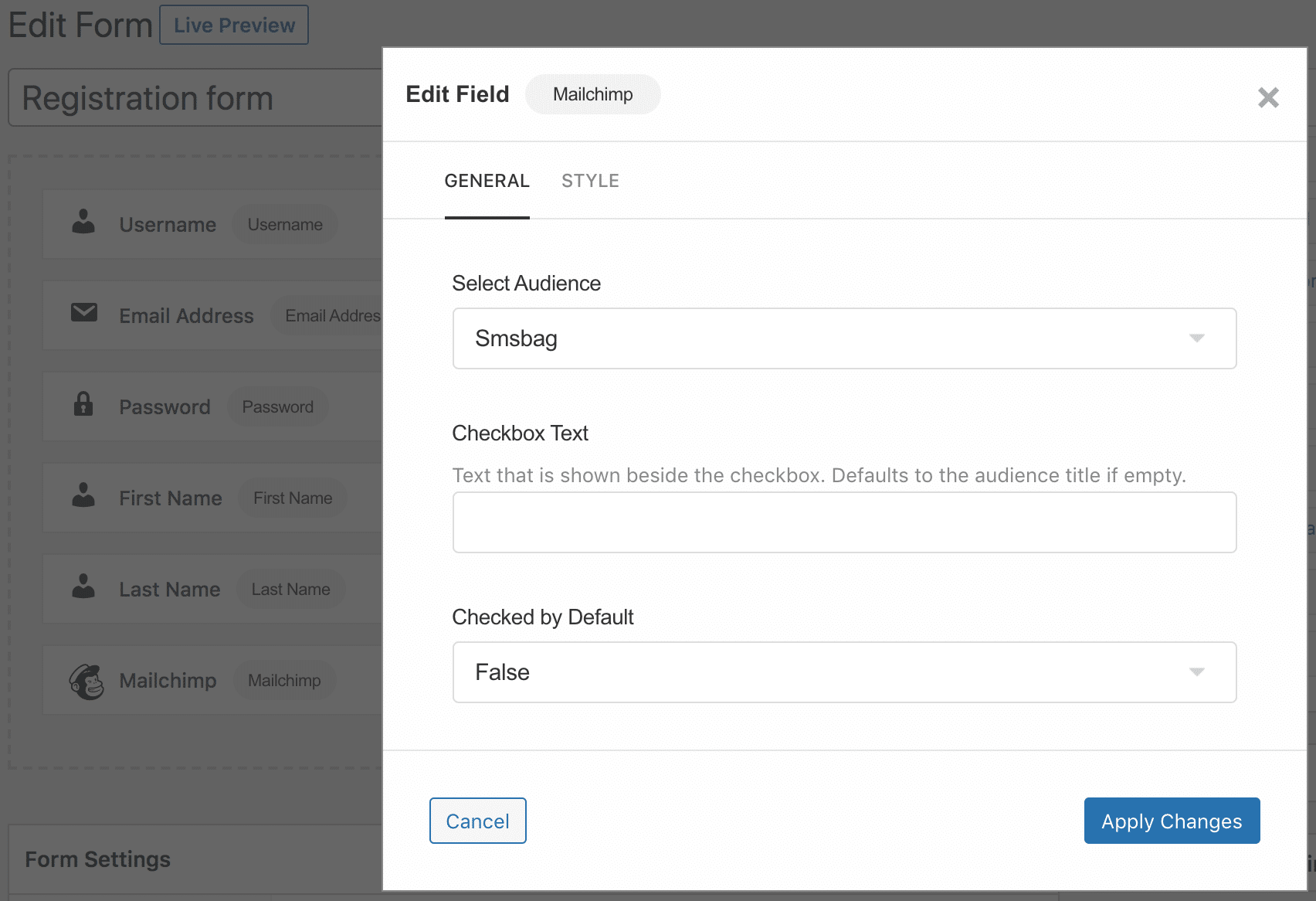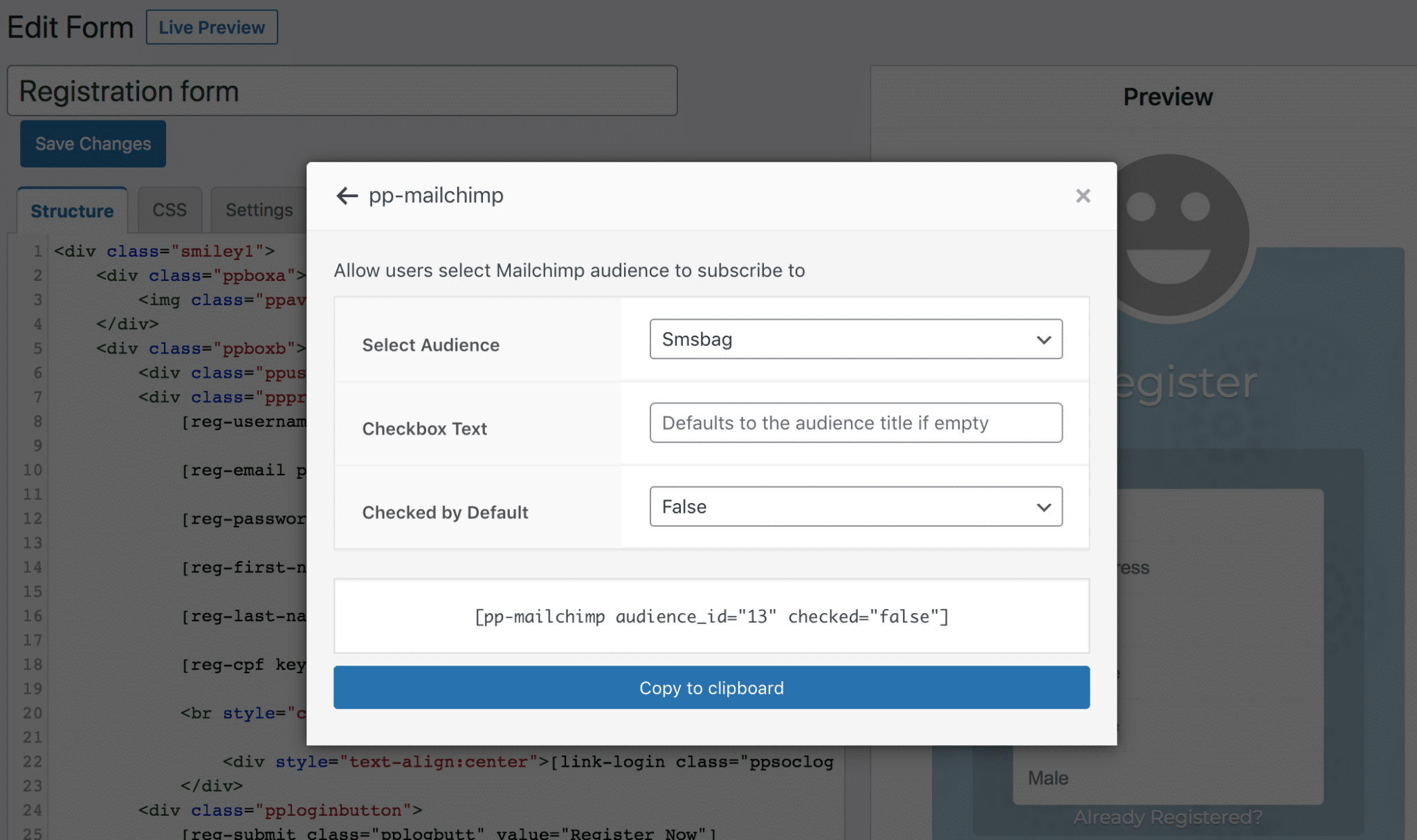 Manage Subscription Page
A "manage my subscriptions" page where logged-in users can manage their own email preferences from their account page. That is, they can unsubscribe or subscribe themselves to some of your emails and not others.
Our Mailchimp addon automatically includes this feature to your My Account page where users can select the audience they want to be subscribed to.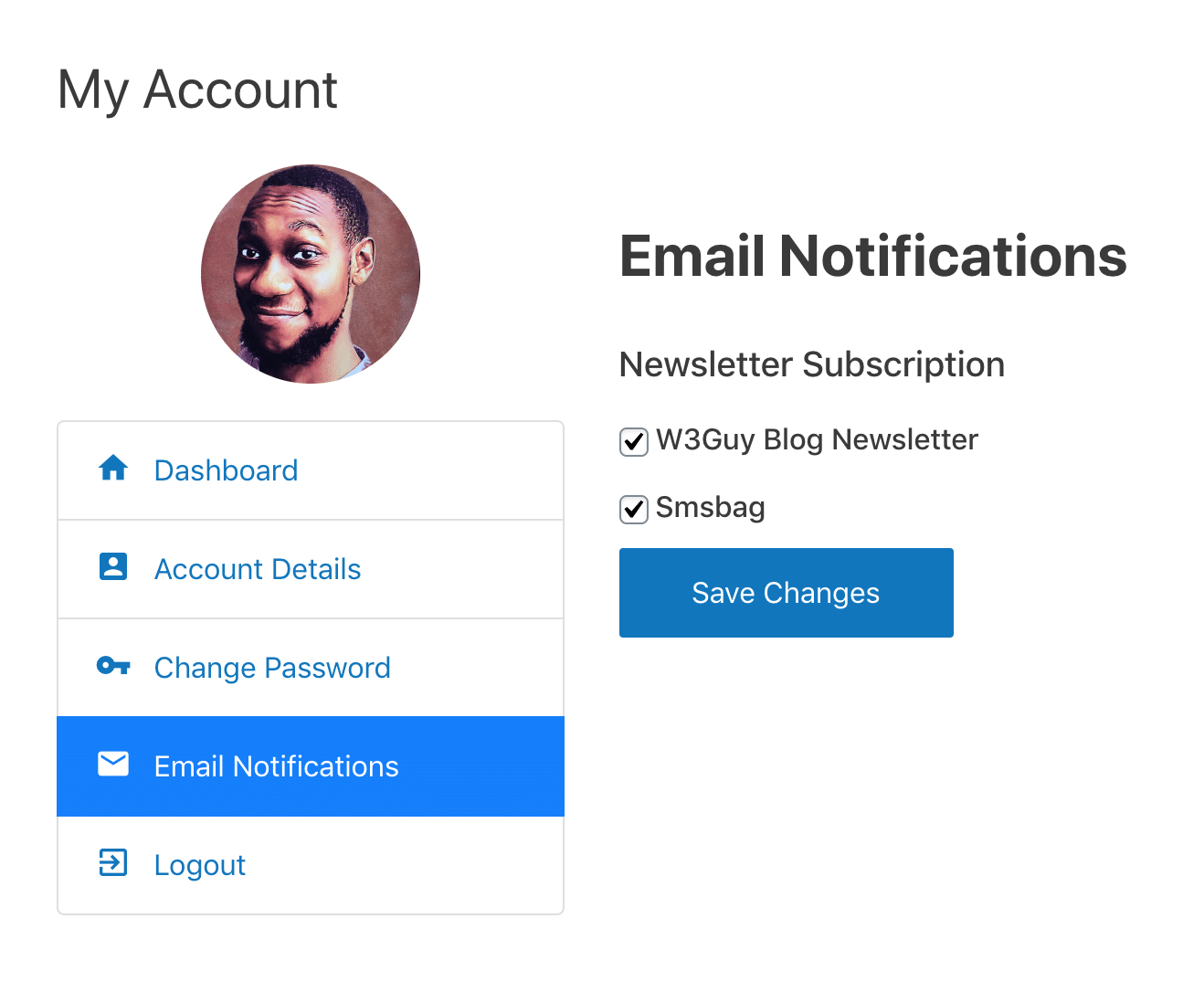 WordPress to MailChimp Sync
There is a Sync tool that lets you import all users of your WordPress into a Mailchimp audience. You can decide to sync only users of specific roles to import.
When you check "Enable Auto-sync", the addon will watch for changes in users and automatically synchronizes any detected changes with your Mailchimp audience.
If you feel there are users missing in your MailChimp list or you installed the addon for the first time and want all registered users to be in your audience; use the sync tool.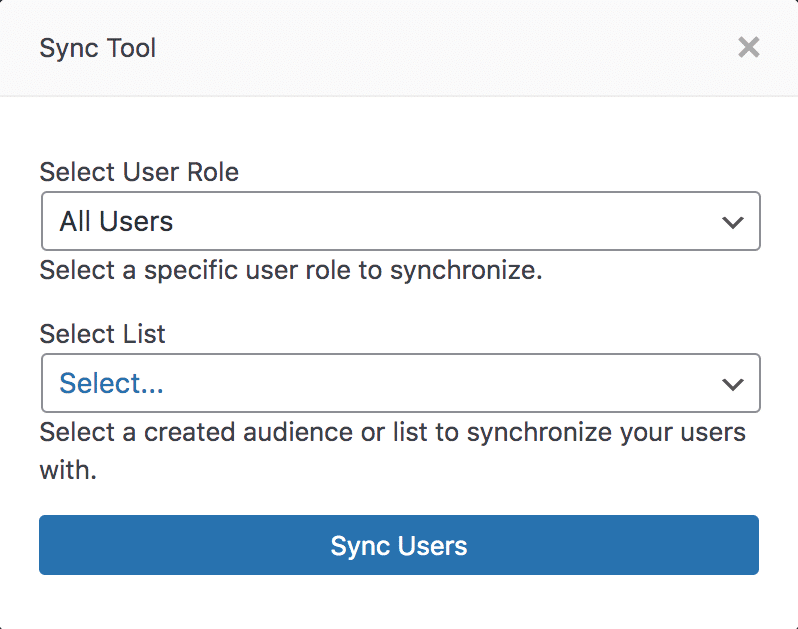 Conclusion
In this tutorial, we learned how to automatically add WordPress users to a selected Mailchimp audiences, let users select the email list to join during registration, detect any changes in your registered users and sync them with your Mailchimp audience and finally, let users manage the audience they want to be subscribed to.